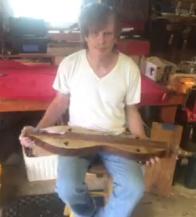 12/18/16 12:04:04PM
@bob
I have been preparing materials for my next dulcimer; an Hourglass shape with Mahogany sides and bottom and a Cherry top.
I will use either African Mahogany or lovely Purple Heart for the scrolled tuning head, fingerboard and tail. Tuners will either be In-line machine pegs or a set of Perfection planetary pegs.
I think I will enjoy this project, though with winter here, working in the unheated garage may be a challenge...