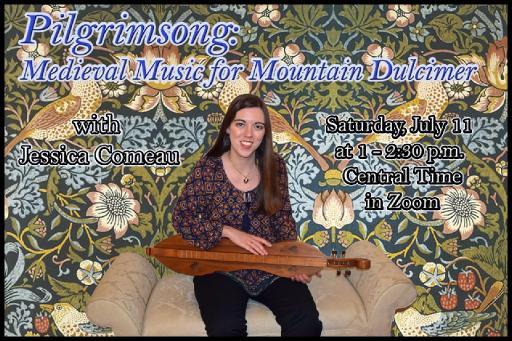 I wanted to share with you that I will be hosting a Zoom workshop,"
Pilgrimsong: Medieval Music for Mountain Dulcimer" (Saturday, July 11, 2020 from 1-2:30 p.m. Central Time). It will give a glimpse of medieval life through the lens of three songs that each represent a different social class. Our home tuning will be D-A-D, and our songs will target the advanced beginner and intermediate levels. Players of other fretted zithers are welcome as well. We will need a capo for one of the songs!
You may join us if you wish, and I would greatly appreciate it if you could share the word about this workshop with any of your friends who might be interested. Registration will be $15 per participant. I will send a Zoom meeting link and a PayPal order following each RSVP (you may message me here or at the email address on my website: www.JessicaComeauDulcimer.com).
Sincerely,
Jessica Comeau
updated by @jessica-comeau: 07/01/20 07:17:54PM