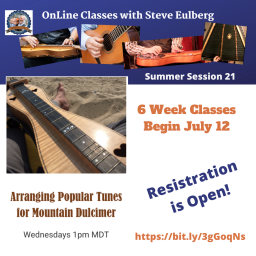 After spending the past 6 months working on the tunes for my forthcoming book from Hal Leonard, First 50 Songs You Should Play on Mountain Dulcimer , I am eager to share my learnings , as well as let you preview some of the arrangements in the book.
Because Hal Leonard has the resources to pay for publishing licenses for popular songs, they encouraged me to focus on tunes that were NOT in the public domain.  
As a result I was able to delight in working on the songs from my life's jukebox.
Some titles included in the book:
Time In A Bottle by Jim Croce
My Girl by Smokey Robinson
Your Song by Elton John
Wonderful Tonight by Eric Clapton
Ventura Highway by America
Desperado by Don Henley
Fire and Rain by James Taylor
You've Got a Friend by Carole King
Lean On Me by Bill Withers....
(Take Me Home) Country Roads by Bill Danoff, Taffy Nivert and John Denver
...just to name a few.
There are some unique issues to consider when arranging popular tunes:
Song Hooks
Song organization/ Navigation
Chords
Chord Voicing
Internal movement
Bass Lines
Interesting Chords in the Bridge
Copyright issues....
There are all the topics of this class so that you can arrange YOUR favorites for your playing satisfaction.
Questions?  Just ask right here.
Steve
updated by @steve-eulberg: 06/22/21 05:59:39PM