10-27-23 "Sally's Lament" Chromatic MD Class

Bing Futch
@bing-futch
3 months ago
8 posts
Join  Bing Futch  in a spooky new workshop for   chromatic mountain dulcimer,   featuring music from the Touchstone Pictures classic,   "The Nightmare Before Christmas";   Bing has created an arrangement of the sweetly scary   "Sally's Lament" , by composer  Danny Elfman.   The workshop will take place online via  Zoom, October 27th at 7 pm EDT   and   only 30 registrations are available .    Bing's   patrons   attend for free.  This is a fairly easy piece to play, so you'll be able to have fun with it in time for Halloween, and really have it ready for Christmas!
This session is geared toward all   chromatic mountain dulcimer   players who are currently playing from tablature and can play some chords by memory.  Walk step by step through the process of figuring out the tune, finding the melody, identifying and playing the chords, and then putting it all together with harmonies to create a faithful rendition of this magical song.
Registration is $19   and comes with a premium video recording of the workshop, ensuring a valuable point of reference. You'll also have tablature and supplementary resources to take you beyond learning the tune, and further into understanding the chromatic mountain dulcimer and its many possibilities.  If you feel there's something in the wind, quick, register today!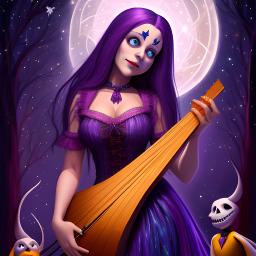 updated by @bing-futch: 09/23/23 01:36:23PM