Sutton, WVa. Where's Homer?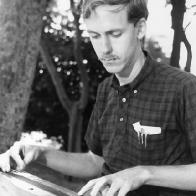 07/24/14 02:17:54PM
@curtis-carlisle-bouterse
A rustic-looking dulcimer came up for auction recently with a distinctive carved head on the scroll. At least two different dulcimerists wrote in with information for the rather naive seller but only one other person made a (modest) bid before I won it just a few dollars over the opening price. I was a tad nervous because I knew others had viewed it and passed so I figured maybe it was a dog. The seller (from Michigan) had indicated a date of 1954 and some garbled words were inside. When it arrived I was pleasantly surprised; the (partial) paper label was decipherable. At the left were remnants of typewriting:
[ (o/e?)lson ] and below it
[ . Va. ] (as in [W]. Va.)
which was all that was left of what was probably the main label information. Fortunately, on the right the remaining 2/3 of the paper(which was tenuously attached to the back under the right-hand sound hole) was a pencil inscription:
1954 WORK . BY F. Sutton WVa
Homer
OF . SUTTON
I immediately went to Ancestry.com [this is Not a commercial endorsement] to look for residents of Sutton, WV named "Homer." [Sutton, the county seat of Braxton Co. - smack dab in the middle of the state - had a population of 1011 in 200 and 994 in 2010.] Incredibly, for a town of this size there were a number of men named Homer in the 20th century. The US census shows there were Homers with surnames of Boggs, Brown, Cogar, Crawford, Deuly, Dillon, Fisher, Fleming, Frame, Hines, Leavitt, Nussear, Ratliff, Samples, Singleton, Stalnaker, Thayer, and Woodcock. [I also tried F. Homer, but couldn't find any in Sutton or Braxton Co.]
It dawned on me I had recently found another Braxton Co. dulcimer by Sylvan James from nearby Gassaway. I also found there was a Library of Congress recording of dulcimer player Carl Davis in Sutton in 1978. It seems this area is a hotbed of dulcimerists: FOTMD lists two members living there and another who is an emigree. The typed word "(o/e?) lson" could be part of an address like a street name. Perhaps one of our Suttonites could shed light on this maker.
Curt Bouterse

(There is so much information I'm splitting it into two parts. The description of the instrument is next.)