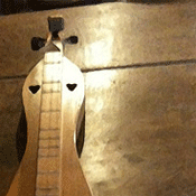 09/11/14 06:20:12PM
@ggsipaper
Howdy folks,
Someone asked me if I knew any information on a dulcimer they recently picked up. I didn't but thought the folks here would certainly know more than I. He didn't have the dulcimer there for me to see in person but here are some details on the instrument:
Initials " L A R"
Date: 1967
Teardrop
Fiddle F-type sound holes
Cedar top
Please let me know it that rings a bell to someone. It is not too likely with the thousands of folks that have made one or more dulcimers. In any case, If you have any info, I would love to hear it and forward it to the owner.
Thanks for your consideration.
Tom S.