Hubert Rogers - Looking for info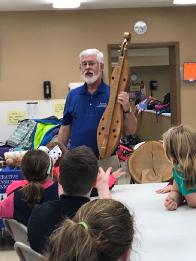 09/09/20 10:54:41AM
@clockdr
I just acquired three Hubert Rogers dulcimers from a member of his extended family - has anyone else got one of his instruments? He's listed on the Berea College website as a Kentucky dulcimer maker (died 1979) so he's not completely unknown though he was better known as a performer (see Smithsonian 1973 event online with Stamper et al.), but even the extended family member I got these from didn't know much about him. To quote her: "He was my late (first) husband's first father-in-law." (Just let your mind think about that one for a minute!) In other words, she'd never met the man and she's not a relative either! :)  The family member said that "he used to do a lot of wood carving, dulcimer making and basket making from white oak. He sold a lot of his work through the Kentucky State Park gift shops for many years. I didn't know him personally but I was told that he got into this type of work when he was diagnosed with cancer so he could keep busy and he had many years to craft."
The three I bought have always been in the family, unplayed wall-hangers. All with three strings, two hourglass shapes, one teardrop. The Berea site says something like, "he made over 100 dulcimers" but that's about it. The two hourglass ones I have were both stamped with an ink pad, twice per dulcimer, one on each backboard at each of the lower bout. The teardrop was only signed in pencil, so perhaps it's the oldest of the three. All were made with staple frets, placed the entire width of the fret boards. The hourglass ones had carved peg heads, but not the teardrop. He used pieces of metal for the bridge and the tailpiece connector through which the strings passed.
Does anyone else have one of his dulcimers or know anything more about this man?
I can put up more photos if anyone's interested. Haven't really taken full-length photos yet but here's a sample.
https://www.dropbox.com/s/pj7rpf1gjjawcsk/Photo%20Sep%2008%2C%203%2046%2048%20PM.jpg?dl=0
https://www.dropbox.com/s/4pbcz0qlsqhpmzb/Photo%20Sep%2008%2C%204%2000%2001%20PM.jpg?dl=0