Anybody seen one of these before?

02/04/13 09:47:15AM
@patrick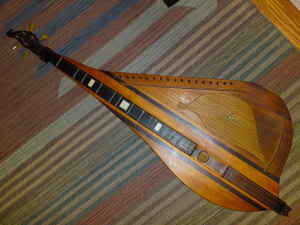 I guess this qualifies for discussion here since it's now over 30 years old. I picked this up from craigslist a few years back, and have yet to do anything with it. It has a standard 4-string dulcimer fretted portion, with 18 open strings. Tuners salvaged from a Gibson guitar, rectangular MOP inlays on the fretboard. Handwritten inside is "Mark Magruder, Missoula Montana", forming a circle. Inside the circle: the year "1982", what appears to be a signature, and what I assume to be a list of materials: "Osage Orange, Black Walnut, Vermillion, Spruce top, ebony fretboard."
Any information, insights, suggested tunings, or general comments will be greatly appreciated.