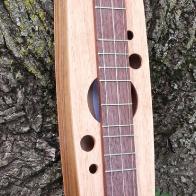 11/06/14 06:23:10AM
@pete-staehling
I have been specializing in small dulcimers for some time, but have been expanding the size range of my instruments.
The short end of the scale got stretched about as small as I am likely to go when a customer commissioned a 10" VSL (<12" overall). Somewhat to my surprise it turned out to be a delightful little instrument. I liked it well enough that I built myself one. At jam sessions folks really seem to enjoy trying it out.
I started going a little longer than my usual 17-19" VSL models with a 21" VSL one. I liked it quite a bit and used it for a number of our local sessions. It fits in my little backpack and is tuned the same as a big dulcimer.
When I recently built and boxed up a full size model for a customer a couple things occurred to me. First those thing are really long and cumbersome to carry and travel with. Second itoccurred to me that a dulcimer could sound and playas if it were full size and still be 4-5" shorter than a normal one by using zither pins in the same manner as my smaller models. Those 4-5" are likely to make the difference between it fitting and not fittingin your luggage.
So I am building myself one along those lines as a proof of concept. It nearing completion and is a 4 string made of walnut, cherry, and chestnut. The VSL will be 27.5" and the overall length will be about 29.5". This one should be no compromise in sound or play-ability when compared my full size one but will be less hassle to travel with due to the shorter length. I think shortening the VSL a little on one could be done and still have it sound/play almost like a full size one if shorter yet was desired.
Do you guys think there will be a market for this size?