O Bury Me Not on the Lone Prairie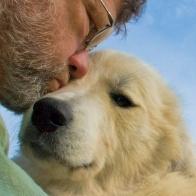 04/01/10 03:06:09PM
@flint-hill
"O bury Me Not", also known as "The Dying Cowboy", starts out as "The Ocean Burial", an 1839 poem by Edward Hubbell Chapin, in which a young sailor dies and is buried at sea.
It resurfaced in the 1870s with the ocean transformed into the American prairie and the sailor into a dying cowboy. Authorship is variously attributed with the most commonly cited reference being Jack Thorp's
Songs of the Cowboys
, 1921, in which he attributes it to "H. Clemens, Deadwood, Dakota" with a publishing date of 1872.
There are several tunes in both major and minor keys.
I learned this decidedly minor-key, hexatonic version from Hedy West. It lacks the sixth scale degree and is therefore playable in tunings intended for the Aeolian and Dorian modes. I play it melody-drone style in Eeaa tuning, which starts a Dorian scale on the fourth fret of the paired melody strings.