Help me decide on an instrument for my birthday!!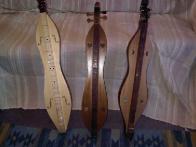 10/14/11 12:37:18PM
@foggers

Dear Friends who Play with Bows....
In January 2012 I will turn fifty, and its those big birthdays with a zero on the end that get a lass thinking that she deserves something REALLY special.....
So my thoughts are turning towards a Ken Bloom bowed dulcimer, for a couple of reasons.
1) In the band we play in, we are missing an instrument that can be played truly legato . We have lots of strings being plucked (guitar, banjo, mandolin, and of course dulcimer) but some of the sad ballads we do are just crying out for a more lingering sound in the instrumentals.
2) I used to play double bass so I am already in possession of basic RH bowing skills
3) The clips I have heard that some of you have posted possess exactly the kind of sounds I want to be able to make.
My main question is about the pitch and the string layout. I am tempted towards the short scale one that is in the violin/viola range as it has that "lead instrument" sound. I think a chromatic fretboard could be the most versatile layout, but it is the "string order" that is taxing me a little. Given that I used to play double bass I think that MD string order could confuse me as the lowest notes would be in the "wrong" place.
Has anyone one out there played other bowed instruments and then turned to bowed dulcimer, did string order prove to matter?
Any thoughts would be most welcome chums