Recommended settings for mic and/or video editing software?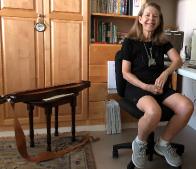 05/10/22 05:00:41PM
@lisa-c
Am registered for the Bing Futch "The Mountain Dulcimer: PLUGGED-IN" June 4 QDF Zoom class, which is for Level 2 players.  It will be a demo of pick-ups and microphones, audio interfaces and amplifiers, plus digital effects like reverb and delay.  Looking forward to the class and wondering what you might say as well...
Would be nice to know how to avoid or fix undesired sounds of a self video--e.g., yesterday's "Ode to Joy"--before publishing:
In a quiet home environment, I used an iPhone X and Blue Yeti X (extra mic) to record and then Adobe Premiere Elements 2021 Editor.  Adjusted the gain on the Blue Yeti X.  Adjusted the gain and lowered the bass and increased the treble in Adobe Premier Elements 2021.  While I also have Movie Studio Platinum 13.0 for editing, it has a longer learning curve.  (Has been 10 years since I used the more complex software, but perhaps necessary now?) 
Not sure how much value added the Blue Yeti X gives to the iPhone X.  However, am interested in specific settings you use--e.g., for input gain, master output level, equalizer, voice EQ, noise reduction, gate, and/or compressor.  Does anyone have a preset for fingerpicking the dulcimer?  The "Ode to Joy" video was my first time to fingerpick the tab rather than flatpack or strum the way it was presented.  Am still learning how to properly use my right hand. 
I played the "Ode to Joy" on a newly built New Harmony dulcimer that has a KK Sound Twin double internal pickup mic.  Have not yet purchased an acoustic amp, though.  Wondering whether anyone uses the Yamaha THR5 mini.  I like that it's battery-capable and lightweight.