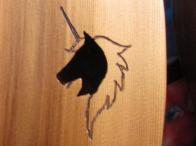 08/20/11 10:11:02AM
@folkfan
When you sing do you find yourself sticking to favorite songs or a particular genre? Or do you actively try to expand your repertoire? If so how and where do you look for new material?
Now I'm a folk nut, particularly interested in the songs of the British Isles and Ireland. Currently, I've focused mostly on songs from Scotland, but have just recently added a couple of really different tunes for me. One is a Welsh song "Men of Harlech" which I'd heard sung in the movie "Zulu" and also by a Welsh male choir. I had to learn it. So I made a playlist using iTunes and got the words and SMN for TABBING.
The other song was "Mo Ghile Mear", an Irish song about Prince Charles Edward Stuart and I'm always looking for songs about Bonnie Prince Charlie. Well, I handled it in the same way, and am now singing it in my sleep. The chorus is in Gaelic and though I know what it means, it's really sort of like singing nonsense syllables. That maybe why my mind picked them up.
So what have you added? How, Why, When, inquiring minds want to know