Hearts Of The Dulcimer Podcast In Its 4th Year
General mountain dulcimer or music discussions
Hearts of the Dulcimer Podcast - Episode 42
The Multifaceted Bonnie Carol and Max Krimmel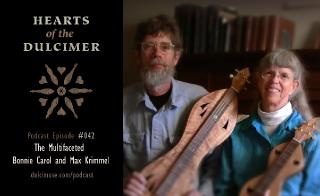 In this episode, meet Bonnie Carol and Max Krimmel, multi-instrumentalists and the builders of the well-known and loved Bonnie Carol Dulcimers.
You can listen to all the Hearts of the Dulcimer Podcast episodes directly on our website: http://dulcimuse.com/podcast or in most podcast apps.

Every episode has its own resource page with photos, videos, and song lists.

Here's the resource page for this episode: http://dulcimuse.com/podcast/resource/042.html