"The Virginia Dulcimer: 200 Years of Bowing, Strumming and Plucking" exhibit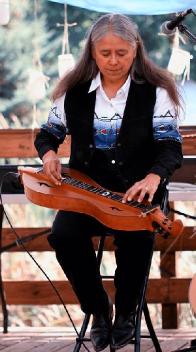 06/14/10 11:47:23AM
@marsha-harris
I play the mountain and bowed dulcimer and fiddle at Civil War reenacting events.I wanted to make a reproduction of a period instrument for reenacting. I had learned that the John Scales Jr. dulcimer, dated 1832, was on loan for the upcoming dulcimer exhibit at the Blue Ridge Institute and Museum at Ferrum, VA. You may remember this dulcimer was featured in the Fall 2009 Dulcimer Player News. After contacting the museum for permission to take pictures and measurements of the instrument,Imade a trip to look at the upcoming exhibit, which was not yet open. I was surprised when I walked into the museum and heard the bowed dulcimer. Ken Bloom was playing for the museum staff and I learned that he and Phyllis Gaskins were to be filmed playing for the upcoming dulcimer exhibit. When I finally was shown to the room with the dulcimer, it was overwhelming. I did not anticipate seeing about 50 dulcimers, some dating back to at least the early 1800's. I took pictures and measurements of a different instrument and ran out of time and needed to head home. In early June just before the Mt. Airy fiddlers convention, I made arrangements to return. This time to take measurements and pictures of the Scales instrument.
The exhibit opens June 28, 2010. They are now in the process of taking down the previous exhibit and setting up displays for the dulcimers.
Ihighly recommend a visit to the Blue Ridge Institute and Museum. The dulcimer exhibit will be on display for several months. You will also see vintage photographs of makers and bands that include the dulcimer.
The museum has a Farm Museum representing the early 1800's across the road and on October 23, 2010 there will be the Blue Ridge Folklife Festival featuring crafts, music, animal competitions and more.
The town of Rocky Mount, Va is about twenty minutes away if you would need motel accommodations and there are campgrounds in the area. Hwy 40 is a winding, hilly road, so plan on taking your time.
I'll be at Kentucky Music Week and will have a short power point display if anyone wants to take a look.
Marsha Harris