Planning a beginner Workshop - what do I need to think about?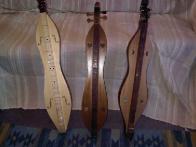 10/13/10 08:03:18AM
@foggers
Hello lovely Dulcimer chums!
I know I have been away for some months from these boards, which is due to a combination of being back to fulltime work (in a large modern university) and also being busy with live music, which demands rehearsal time etc. And of course we are STILL working on the house....
Anyhoo me dears, I am planning two beginner workshops (beginner fingerstyle), each an hour and a quarter long, for a festival in November. I have lots of materials to draw upon for starters, and have some ideas about how to structure the session drawn from years of teaching all kinds of stuff and being very au fait with working with adult learners. As they are part of a busy programme I intend to make the two sessions complement each other but each also needs to work as a stand-alone session too so that participants do not have to commit to both sessions with me.
I think it is important for learners to come away with a new direction and a new thing to work on, so I will provide TAB/SMN handouts for some simple traditional tunes plus other exercises. I have lots of ideas about how to break down the right hand techniques and explore issues like using thumb/finger picks or not. I have my own practice regimes that have worked well to build left hand and right hand dexterity which I can also adapt for this audience. I have done lots of informal teaching on a range of instruments, (and many years of formal teaching of Social Work). I am putting my ideas together now, so that I have time to run it through and maybe even subject my OH to it, as he keeps saying he should really learn the rudiments of MD given that he likes building them.
SoI just wanted to ask this online community of dulcimer teachers, what your top tips are that have worked well with groups of learners, as I am very ready to bounce some ideas around please, and funnily enough, I just don't regularly bump into teachers of the MD in this neck of the woods!