Miss McLeod's Reel by Fiddle Whamdiddle (Vi Wickam and Steve Eulberg)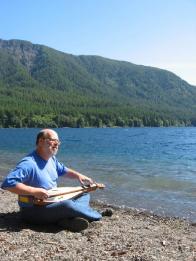 02/18/15 10:36:44AM
@steve-eulberg
This iframe is not allowed
Here is a video of our performance of this Scottish-American tune with fiddle and Galax mountain dulcimer with noter and turkey quill at the Evart Funfest in Evart, Michigan, July 2014.
Miss McLeod's Reel (the Scottish antecedent) became known as: "Didja Ever Go to Meetin' Uncle Joe?" and "Didja Ever See the Devil, Uncle Joe?" and "Hop High Ladies."
I love my Galax dulcimer (built by Ben Semour ) for its versatility...and can't wait to teach a week-long class on noter-style playing at Kentucky Music Week in June (21-26, 2015)
This tune appears on Fiddle Whamdiddle's Old School Old-Time recording which was named in the Top 50 Folk Albums for 2014 (with 4 songs in the Top 50 Folk Song Chart for the year as well!) in the Roots Music Report.
Here's the discussion part: With what instruments do you pair your noter-style playing?