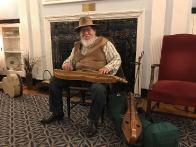 10/18/16 08:08:48PM
@rob-n-lackey
Don't forget folks: Super 8 Motel, Morgantown, WV, Oct. 29 from 9:30 ish til about 6:00 ish.  Motel is at exit 7 off I-68,  
This is probably the most informal gathering in the East.  No set anything, just good times playing.  Bring your instruments and your questions and someone can probably answer them for you.  
I'm going to try to do a google hangout for at least a little while during the Gathering.  Check for instructions on how to view and (I think) comment.