On Stage At Leo Coffeehouse, Cincinnati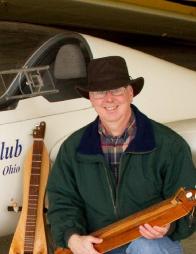 11/12/18 10:36:57PM
@tom-mcdonald
Our short set as "Seldom the Same" at the Queen City Balladeers, November 11, 2018. I'm on harmonica, and playing an Ed Weiss dulcimer borrowed from lead singer (and FOTMD member) Dean Vamvas. The dulcimer is a 3/4 size instrument, identical in basic design to mine but with a pickup and a much faster fretboard. I used his mostly because I could plug in. Ed, who passed away in May of 2015, made great one of a kind instruments, every one a work of art.
I'm using DAD tuning and a 1.5 fret. Keys are included with the set list if you want to play along. I can't share tab here, but that's OK, because I don't have any to share anyway! I just start with the chords and figure it out from there. You can find those easily enough online.
Thanks to my friend and our cello player, Dave Sanders, for making a great video.
Here is the set list, plus timing marks if you want to jump ahead.
0:00 Twilight - The Band. Key of G. Straight harp, also G.
4:35 Summer's End - John Prine. Key of D. A newer song from him.
7:50 Get Together - The Youngbloods. Key of D, but with a C chord at the end of each line. It calls for a C6, but I'm chording an open - 1.5 - 3 formation, sometimes bass to melody and sometimes the other way round. It's two notes of a C plus an added D note, or a C9. As happens a lot on our instrument, I'm faking a 4 note chord using 3 strings.
12:40 Blues Stay Away From Me - Delmore Brothers. Key of E. Playing second position on a Lee Oskar harmonica, key of A. Pretty standard blues progression, E, E7, A, E, B7, E. The B7 is 4 5 5, giving you the A note under the B. I usually put my thumb on the two 5's and finger all three 4's behind that. It gives me a nice stable hand position. I also sub open - 4 - 5 for an E chord whenever I get tired of 1 1 1. Really an E7, but it works OK in the background. Easy to reach going to or from that B7, too.
15:40 Come On Up to the House - Tom Waits.  Key of D, with D, Bm, G, D chords. There is an A7 in the chorus too. I love that great line in the second verse: "Come down off that cross // we can use the wood." 
19:00 Tulsa Time.- Don Williams. Key of E, and playing an Hohner Golden Melody in E. I got a little shrill. If I had it to do over, I would play more on the low end, and do the fills on the outro on the A.