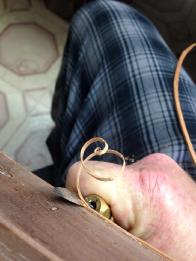 11/09/14 06:33:52PM
@mark-runge
I love the lines on this instrument. This is the first one that I've made virtually on my own. And the finish is coming along nicely--although I will openly admit that I struggle with a great finish (Helpful hints are welcome!). I put the third coat of shellac on it yesterday, and I'll varnish tomorrow (8 coats wiped on.).
I chose the soundboards according to their tone (topwood is baritone/bass and the bottom was bass/bass), and it was just a bonus that the bottom, which is black walnut, has some worm holes in it. The wood is just lovely. I'm looking for quarter sawn black walnut if anyone has any or knows a source.
My carving is improving, and I learn so much with each instrument I build. I've just started to carve a peghead for the biggest teardrop that I'll make. The ribs are 2 1/8" deep, so its voice should be nice and loud. I'm really excited for this teardrop (the teardrop is my favorite shape), and I'm trying to decide if I am going to use Sitka spruce or redwood for the top. Opinions?
I'm struggling with the sound holes, too. Others use a router to cut out their sound holes with no problems. So why do my sound holes seem beaver chewed in places when I use a router? I've been practicing, but my holes are not what I want them to be. I'll use a scroll saw at home because I've had years of working with a scroll saw. And I love the way the scroll saw polishes as it cuts, which equals less work!
This machine is all black walnut with a redwood top--like all of my instruments will probably be except for the Sitka spruce tops. I'm using Wittner pegs and Sunhearth ebony nut and saddle. The string pins are ebony, too. (I'll get other pics soon.)
I'm open to constructive criticism.
Big smiles to all!