First Australian Song - Streets of Forbes
02/22/15 05:16:12AM
@mark-brothers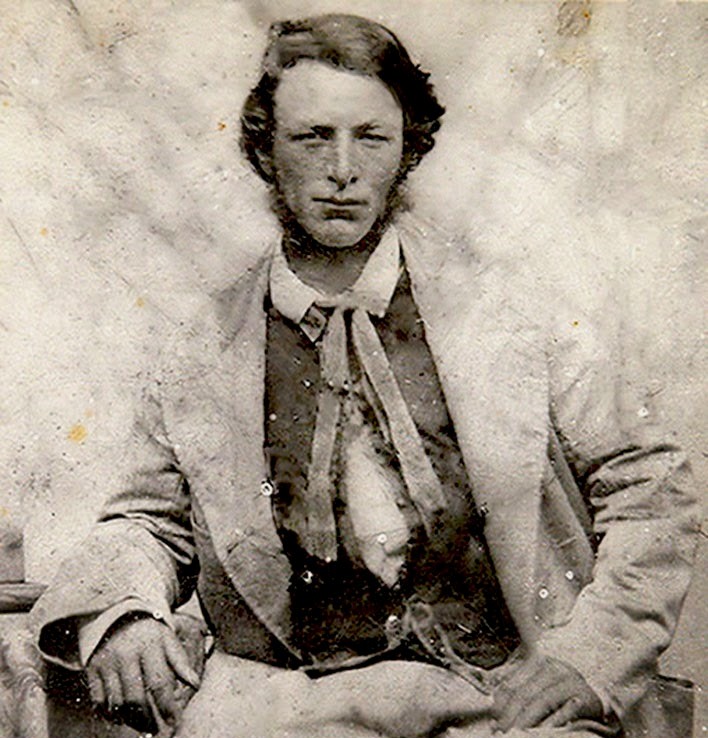 It's been a couple of days and no one has posted a song yet so I'll be game and go first !
To the left is a photo of the bushranger Ben Hall and the song here is "Street of Forbes" which is about his life and death (and the words are said to written by his brother in law John Maguire who watched his in law's body paraded through the streets of Forbes). Unlike many Australian folk songs it doesn't appear to be new words attached to an older tune, at least as far as I'm aware
Hall was to some extent a victim of his own success as a bushranger which resulted in the passing of an Act of the NSW parliament - the Felons Apprehension Act - making it lawful for anyone to shoot him in cold blood - no questions asked - and be absolved of any legal responsibility for doing so. And that was essentially what happened, but when word spread of the his death and the parading of his corpse the act was soon repealed.
My version of the song is loosely based on the recording on the album "Murumbidgee" by the Bushwackers in London in the 1970's. Fairport Convention's sound engineer John Wood was the producer and Dave Mattacks from Fairport played drums on the track so it sounds a little "Fairportish" which I tried to keep in my arrangement. The Fairport spin off Steeleye Span is what got me interested in dulcimer in the first place.
The backing is done with an iPad using "GarageBand" and is drums, tambourine, bass, electric piano, organ and a synthesized tin whistle.
The dulcimer is a Tom Yocky solid body electric mountain dulcimer tuned DAD and played with compression on verse 1, compression and chorus on verse 2, and compression and flanger on verse 3. The "lead guitar solo" is not a guitar - it is the dulcimer played with a noter and through compression and an overdrive box.
I was going to do a video but it got too hard - as there are 4 separate dulcimer tracks.You'll have to make do with the sound only. I thought it might be hard to blend the 4 tracks together seamlessly but they did very nicely thanks to the intrinsic sustain and droning quality of the solid body instrument. I can supply a tab for anyone interested and I have it in TEF also.
Soundcloud - Streets of Forbes
The song is shortened from 4 to 3 verses. For non-Australians the words are as follows:
Come all you Lachlan men and a sorrowful tale I'll tell
Concerning of a hero bold who through misfortune fell
His name it was Ben Hall a man of good renown
Who was hunted from his station and like a dog shot down

Three years he roamed the roads and he showed the traps some fun
A thousand pound was on his head with Gilbert and John Dunn
Ben parted from his comrades the outlaws did agree
To give away bushranging and cross the briney sea

Ben went to Goobang Creek and that was his downfall
For riddled like a sieve was valiant Ben Hall
Twas early in the morning upon the fifth of May
When the seven police surrounded him as fast asleep he lay

Bill Dargin he was chosen to shoot the outlaw dead
The troopers then fired madly and filled him full of lead
They rolled him in his blanket and strapped him to his prad
And they led him through the streets of Forbes to show the prize they had