Kindle Dulcimer tab Books by Jeffrey Lambert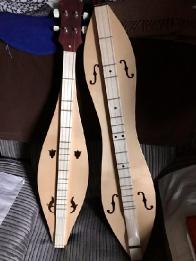 05/24/20 08:21:04AM
@connorc
Just found these on Kindle. I needed new noter music, now that  my wife has mastered 'Mary had a little lamb'. 😉 I was searching Amazon UK and found Kindle Unlimited books by Jeffrey Lambert, for noter and drone - yippee!
https://smile.amazon.co.uk/Playing-Mountain-Dulcimer-Made-Easy-ebook/dp/B07KPTNZZB/ref=sr_1_8?dchild=1&qid=1590322624&refinements=p_27%3AJeffrey+Lambert&s=digital-text&sr=1-8&text=Jeffrey+Lambert
I downloaded one to check it out, and then bought all 3. (I had an accident yesterday with a tin of cat food and have a bandaged finger, so was already planning to play noter only today)
It covers DAD (Occasional 2nd string use) and DAA (pure noter) play with lots of tabs and no wasted space for music bars. Exactly what I was looking for. I will be tuning down to DAA Today and staying there for a while.
I cut us both a couple of strummers like Strumelia was using in a video. They are fun to play with and quite 'whippy'. (Long pieces of plastic off some cheese cartons!) 
Those books will save me a lot of work finding songs for us to play. Happy days. 💚