Introduce Yourself!
General mountain dulcimer or music discussions
Ken Hulme
:
Riksgewijs  --  Welcome to the group!!!

A Trossingen Lyre?  Congratulations!  Did you include all that wonderful kolrose carving found on the original?  Here's a photo of an Oberflacht 84 replica that I made, with kolrose carvings of a pair of Pictish Beasts.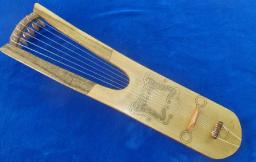 Many thanks for the warm welcome. 
Yes, this is the one. But the one on you're picture is not quite a trossinger. I has made a page about my lyre. This one i build to last on renaissance markts. So it can have a beating and handle some rain. but the shape and collrossing and looks ar spot on. 
I also made a view recordings. You can find them also on the site and my you-tube channel. 
Hope you will enjoy. 
Riks-Gewijs website, click here
updated by @riksgewijs: 06/10/19 03:09:39PM