Sng4prt, I bought the stand online. I forget where, but it was one of the main suppliers... Then I removed the cloth that came with it and used it as a pattern and sewed up some leftover material I had made curtains from. It's nice and thick. I hope this helps
I like them both. I really like the solid surface on the folding stand. Like a portable table!

Norman Arrington
@norman-arrington
7 years ago
4 posts
Kandee
The folding stand is very light. I fling the strap over my shoulder and I am on my way. It amazes me what kids can do if you give them a direction and responsibilities.

Norman Arrington
@norman-arrington
7 years ago
4 posts
I found some high school shop students that needed a project for a class grade. I gave them a rough sketch of the "house" stand and the portable folding stand. This was the results.

Rev. Wayne McAllister
@rev-wayne-mcallister
7 years ago
17 posts
Sheryl, TKS for your pics. I am currently building new stands (from reclaimed pallets) one for me (dulcimer) and one for my wife (autoharp). Needless to say Sharon already has a plan for the covers. GREAT project for a snowy day

sanstew
:
I use an IPAD for my music so I have a stand made for it. 
Interesting, can you share a photo of your stand with us? 
 Thanks Kandee! I sew, but I don't quilt. Please share a photo of yours when you are done creating. I don't have any trouble finding my stand when coming back from a break at a workshop, and I think it's fun to be different. 

Sheryl St. Clare
@sheryl-st-clare
8 years ago
260 posts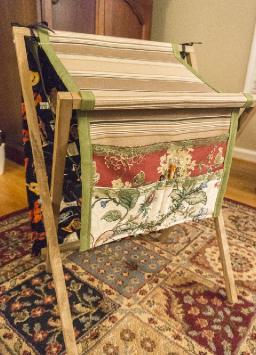 We often share photos of our dulcimers, but our overworked music stands seem to go un-noticed. I recently 'upgraded' the fabric on my music stand with leftover fabric from curtains I made last year. That got me thinking, do others do this too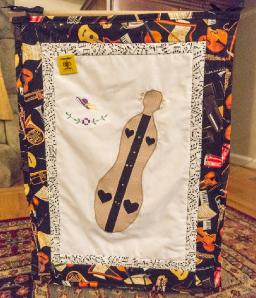 ? Do you have a 'skirt' for your stand? Did you make your own stand, or buy one from one of the few mountain dulcimer music stand suppliers? Please share your photos, and story, and let's give thanks to this support accessory. 
updated by @sheryl-st-clare: 08/01/23 05:38:13AM