Home and Shop Relocation Progress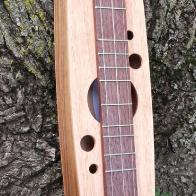 04/11/15 07:13:13AM
@pete-staehling
Things are slowly shaping up. We settled on the new house and hauled one 8' cargo van load of stuff down two weeks ago.
My bandsaw and about half of the other tools were in that load. My new circular saw was delivered while I was there and my daughter stopped by the house to take delivery of my new Jet 10-20 thickness sander for me yesterday. I bought but have not yet installed LED lighting for the shop.
I will be making a trip down this coming week with a bigger 16' box truck. So a lot of our household items and the rest of my shop stuff should all be there soon.
I expect that within the next month or so we will haul another (final) load of stuff down before putting the old house on the market.
I find it amazing just how much stuff we accumulated in the 35 years we were in this house. We are taking this opportunity to shed as much of it as we can. Countless bags have been hauled out to the curb and many loads donated to charity.
I am pretty excited about the move, but with moving in, misc. repairs and upgrades to the house, and painting it will probably take a while to really get the shop fully set up and operating. I am really looking forward to getting back into production of dulcimers.