Gilbert & Sullivan patter song from HMS Pinafore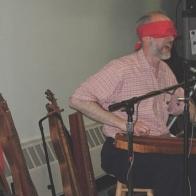 09/02/18 04:21:14PM
@sam-edelston
I recently taught a workshop on unusual chord voicings at August Dulcimer Daze, and used this song as an example. Played here on a chromatic (DAD), but can be done on a diatonic with little loss.
From Gilbert & Sullivan's operetta, HMS Pinafore, it's the patter song, "When I Was a Lad."
This video is inspired by Stephen Calk, the bank president who tried to use political influence to become Secretary of the Army (though he would have accepted any of ~22 other specifically named top-level positions).
Enjoy!
Sam