The Masochism Tango, on chromatic dulcimer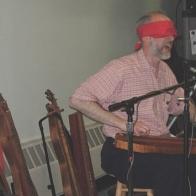 11/03/18 02:17:29PM
@sam-edelston
I was at a Birdland, the renowned New York jazz club, where Les Paul's former bass player, Nicki Parrott, did a steamy rendition of Besame Mucho that made every male in the room want to swoon at the foot of the stage. In that moment, I knew that I had to learn a tango.
Here's Tom Lehrer's modest contribution to the genre. He, of course, is one of the all-time greatest writers of humorous songs, but I liked this arrangement so much that I had to do it as an instrumental.
Chromatic dulcimer, tuned DAd, played in Dm.
Here's the link to click. I see you quiver with antici-
The Masochism Tango, on dulcimer
Enjoy. 

Sam