"And the Band Played Waltzing Matilda" 11/11/18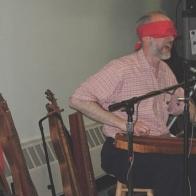 11/11/18 06:09:10PM
@sam-edelston
I had a showcase at the Northeast Regional Folk Alliance conference (NERFA) this weekend, and realized that after midnight Saturday night would actually be November 11, Veterans Day, the 100th anniversary of the armistice that ended the First World War. So, I dropped two songs from my set list and substituted this, because of all days, this uniquely was the day when it had to be sung.
"And the Band Played Waltzing Matilda" is Scottish-Australian songwriter Eric Bogle's moving song about the battle of Gallipoli, where UK troops from Australia and New Zealand fought against the Turks. I have difficulty singing it without tearing up.  I fell in love with the song in the '70s, hearing Priscilla Herdman's version on folk radio. Later, I would see her perform the song on a Memorial Day weekend folk festival, as well as seeing the composer perform it at a coffeehouse in New Jersey.
Here's the link:  And the Band Played Waltzing Matilda
The song is played here on my Bear Meadow chromatic baritone, though it doesn't use any half-frets, tuned AEA. I play it with a capo on 1 here, only because I was going to follow it with a song that does require a capo for me.
It's 7 minutes long, but worth the listen.
Sam