Chromatic dulcimer: David Bowie's "Space Oddity"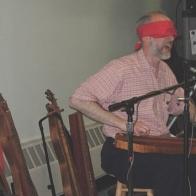 12/29/18 09:30:33AM
@sam-edelston
I bought a new reverb pedal recently, and messing around with it, this song kept sounding great with it.
Classic by David Bowie, "Space Oddity," on chromatic, electric, baritone dulcimer.
Played here as an instrumental, but normally I would sing it, too. For the video, I decided to keep things simple and let the dulcimer do the singing. The song tells a story, and knowing or having the words is helpful. (In your favorite search engine, just type "Space Oddity lyrics.")
Played on a Bear Meadow 3-string chromatic baritone, plugged into two channels of pedals. Tuned AEA, capoed up a full step, so it's played in B (but the chord voicings are all as if I were playing a standard dulcimer in open DAD).
Bowie's recording of this was released five days before the launch of Apollo 11, which landed the first men on the moon. And brought him Fame.
Enjoy! 

Sam