Old Folkcraft Teardrop Kit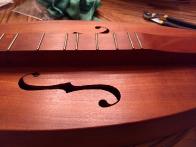 11/25/18 03:57:54PM
@dave-d
I just picked up this vintage Folkcraft kit (~30 years old according to the seller). It's for a solid spruce top teardrop with mahogany side and mahogany plywood back.
The sides are only 1 3/8' tall, so it's thinner than the current Folkcraft kits. Most of the new kits also have a solid back and not the ply.
The bad news is that the fretboard is warped and unusable (see pic). I know that Folkcraft currently sells the same fretboard, but without the extra 4-5 inches for the tuning pegs). The other kit components are ok, and I suspect the spruce top would be very nice when finished.
Looking for advice on how to proceed. It it worth the trouble to solve the fretboard issue, or should I just pick up a newer kit if I want to try my hand at building one?