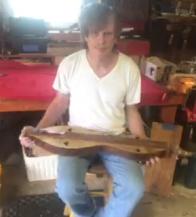 11/24/17 10:38:07PM
@bob
Hi friends,
As I am finishing up October's Dulcimer in a few days, I am entertaining an idea of my next one- a novelty dulcimer project. I have some nice Poplar to use (I have read good things about it as tone wood). I was imaging it being painted, using some bright and lively PA Dutch motifs, & making it really look Folk art-esque. The tuning head (Black Walnut?) will be a simpler design (flat sided) and have wooden tuners. I would use acrylic paints on the primed/sealed poplar, and finish it with a polyurethane varnish.
My question is how much would this paint affect the tone of the instrument. I am not thinking of gobs of paint but enough to decorate the dulcimer vibrantly (like in the photo below).
Thanks for any and all comments and suggestions!