Repairing a Diamond Dulcimer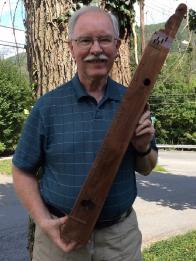 08/27/14 10:16:13PM
@ken-longfield
While this is not a build, we do not have a specific area to show repairs of dulcimers. One of our members contacted me about reattaching the peg head to the body of his dulcimer. This was the result of an accident almost 30 years ago. I accepted the job and glued the peg head back on the dulcimer.
The attached photos show the separation from the body, the peg head, and the body and the peg head together.
Ken
"The dulcimer sings a sweet song."