Tennessee Music Box aka Dulcimer - work in progress - DONE.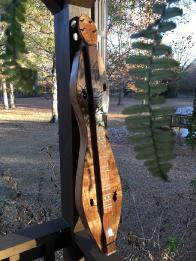 11/30/16 08:57:49PM
@kusani
After reading a research study done at Vanderbilt University Music Department where they found and cataloged about 49 'Tennessee Music Boxes', I decided to build a replica.  It is in progress....as shown.  The wood, right photo, is from a basement commode stall door from the farmhouse I grew up in as a child in Missouri.  The 'stall' was added to the house around 1936 and made out of yellow pine beadboard. I rescued the door in the late 70's just prior to the house being torn down; not sure why, but now am glad I did.  I have designed the music box incorporating various elements from many of the music boxes featured in the Vanderbilt study.
On the left is the bottom of the bottom which is a game table when the instrument is turned upside down. This concept was documented in the Vanderbilt study where there was checkerboard on the bottom of one of the music boxes.  I added the tic-tac-toe game, and may add another on the other side.  The playing pieces for the tic-tac-toe game are 20.ga shotgun brass, and misc. deer antler pieces. The checker pieces are made of bleached and red dyed slices of oak dowel rod. 
On the right is the top, with the fretboard; some of the design I have yet to complete. I am using staples for the frets for the two melody strings. I did decide to use romex staples instead of fence staples as they have a flatter top.
I still have a lot of work to do, cut the sound holes, antiquing, finishing the fretboard, tung oil, etc.