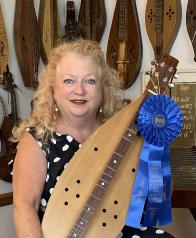 02/11/10 11:45:37AM
@kendra-ward
Hello ya'll,
This is too funny and too good not to pass it on here.
I had this thought: >"Just a thought . . . . as card carrying Dulcerinians, should we have a law
that says: the words "dulcerine" and/or "dulcimer" should never be used
with the term "chromatic"? :-)"
DULCERINIANS UNITE!
I sent this to Ken H. and here is his wonderful return:
-And the Goddess Dulcerina spake from the summit of Mount Dora, saying "Thou shalt not use the word chromatic with the word dulcerine in any manner. Neither shalt thou use that evil word in conjunction with dulcimer."
-Book of the Dulcerine, Chapter III, verse Vii
Transcribed this 4th day of the New World Order by Kenn the Ionian
I love it!
Dulcerina I. Woodbee (aka Kendra)