Born to Run - chromatic bari - in concert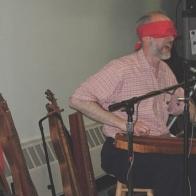 05/26/19 08:36:38AM
@sam-edelston
I grew up musically in an organization called the Folk Project, an all-instrument (but dulcimer-friendly) New Jersey-based crowd. Twice a year, they have an incredible, small festival (about 150 people) that I've been going to for many years. Most performers are booked in advance, including some very well established, touring folk acts, but they have something called "Voca-lotto," where they choose one name at the festival. So, when I arrived, the co-chair told me that I had won and would be doing two songs in the closing concert on Sunday.
Jersey crowd? No question. One of the songs had to be this.
Classic Springsteen on baritone chromatic 3-string. "Born to Run." Tuned AEA, capoed to BF#B, played in real key of B.
Enjoy!
Sam