Billy Joel cover -- "You May Be Right"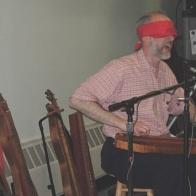 07/21/19 11:35:20PM
@sam-edelston
Yesterday, this song wasn't in my repertoire. But I quoted a couple of lines from it in a Facebook post, and somebody asked me if I had a video of it. For fun, I tried the song out, and it turned out to be playable, interesting, and fun! So even though this isn't completely clean, I posted it while the moment was still fresh.
Billy Joel's classic, "You May Be Right." On his Glass Houses album, it's the opening song, right after the sound of breaking glass, so to be safe, I recorded it on a screened porch.

I've heard this song many times over the decades, so I was able to arrange it without needing to do any research. Ewing chromatic tuned DAD, capoed up one whole step, played in real A, so I could get the low bass note. The song has a surprising amount of syncopation.
Enjoy!
Sam
https://www.facebook.com/Sam.Edelston.Music/videos/398755984104783/