Concert set from QuaranTUNE, 6/5/20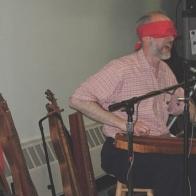 06/11/20 06:24:58PM
@sam-edelston
Here's the link to my set from last Friday's opening set at the QuaranTUNE Dulcimer Festival.
"Call Me" by Blondie (capo on 1, Em)
"Hall of Fame" (Parody of Hank Williams's "I Can't Help It," key of D)
"Garbage!" by Bill Steele (Em ... with text shoutbacks pasted at the bottom of the YouTube Description)
All played on my Rod Matheson electric. The sound was much fuller here in the room than what comes out in the recording, but apparently some technical malfunction at my end caused it not to get picked up. Nevertheless, a good time was had by all.
Enjoy! 😀
Sam