The Cars on dulcimer - "Just What I Needed"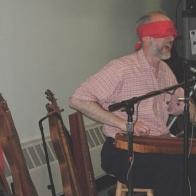 06/28/20 11:50:53AM
@sam-edelston
When I demonstrate dulcimers to people, I like to ask them, "What kind of music do you love?"
One day, I was giving a demo and lesson to a beginning player. I asked her my question, and her first answer was, "The Cars," so I improvised a bit of this song for her, and I realized that it would sound really good on the instrument.
Because of the prominent role of synthesizers in the original hit recording, this was a great excuse to get out my synth emulator pedals (by Electro-Harmonix and Boss). The Boss one has been sitting here unused for a couple of years, because usually I'm strumming too fast for its preset effects to kick in, but here you can hear it in the main instrumental break. The tone is also fattened up with an octave pedal on my second channel.
This is played on my Folkcraft electric chromatic. I love the pickups on it!
Enjoy! 😀
Sam