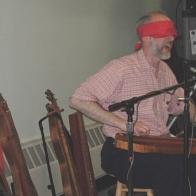 07/11/20 03:45:15PM
@sam-edelston
People really seem to be enjoying this one.
Safety Dance, 1983 hit by the Canadian group, Men Without Hats. This flows so nicely on the dulcimer that I totally forgot the original recording is mostly synths -- until after making my video I looked back at the original one.
Chromatic dulcimer by Folkcraft, tuned CGC, key of C. This one uses nearly all of the  chromatic frets.
Enjoy! And you can dance if you want to! 😀😀😀
Sam