In pursuit of the ultimate dulcimer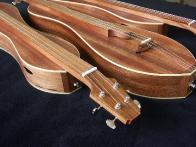 08/08/20 08:02:40AM
@bob-stephens
I have recently decided to suspend production of dulcimers for the general market so that I can devote my efforts to advancing the design.  I am very fortunate to have Aaron O'Rourke and other professional musicians to assist in this project.  I will be attempting to document the journey through the blog on my website at stephenslutherie.com.  If you have interest in following the developments, and hopefully adding to them, you can subscribe to my website so that you receive information as it becomes available.
Clearly, there never will be one perfect dulcimer for all styles of play, so we will be trying to describe potential applications for the various new instruments we come up with.  All of my work is open source, so feel free to use any of the ideas presented and improve on them.  Keeping the dulcimer building community appraised of your work will be greatly appreciated.  
The latest blog introduces a new dulcimer that has some exciting potential.  Aaron will be evaluating it soon as both a steel and nylon string instrument and I will be posting his impressions as they become available.  Let's work together and see how far we can take this instrument with humble folk beginnings.