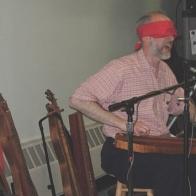 03/27/21 02:05:26PM
@sam-edelston
This song works on a standard dulcimer in DAD, key of D. 
The Gershwins' classic, Fascinating Rhythm.
First verse is instrumental, melody over chords, at a moderate tempo. Second verse is sung over (mostly) fairly basic chords. (You can tell that the lyrics were added after the melody.) Third verse, the instrumental kicks into high gear. Plenty of work for the left pinky and plenty of syncopation, both of which make the song a challenge - and which also make it so very worth having figured out!
The dulcimer was built by George Haggerty.
Enjoy!
Sam