Played and sang for my dad at veterans' home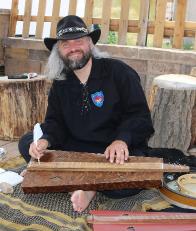 12/01/21 11:38:49PM
@studentofrhythm
My dad moved into a veterans' home a month ago.  He's 89 and has Parkinson's, and though he agreed to go into the facility (my mom couldn't keep up with the Parkinson's and hiring in-home help was too costly) he has had a hard time adjusting.  When I go to visit him I play my frame drum and more recently my dulcimer.  I asked the staff if I could perform for a gathering and they booked me to play for a group after an activity.  I did that today: played several Christmas songs, sang a few, went between dulcimer and drum.  I felt flustered and nervous such as I have not in a long time performing.  But I did it.  And afterwards some residents asked me about the instrument and I demonstrated a bit more.
I want to go back and do it again.  I hope they'll let me.  It's a bit of a challenge for me because I had to take time off work to do this during normal hours.  But I want to go back, and I'm motivated to practice so I get better.  I was reminded of the adage: we don't rise to the occasion, we sink to the level of our training.  I expect that my efforts were appreciated but I still want to improve my command of my repertoire and my whole act.
Thanks to everyone who has posted so many experiences in this group to inspire and encourage.  This is something I've been meaning to do for years and it feels good to have taken the first step.  I'm not naturally a showman: when I perform music I like to be in a supporting role (that's why I like being a drummer) but I figure I can find a way to share what I can in my own way.