Strumming with No. 18 pocket watch spring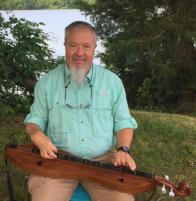 04/30/23 12:10:40PM
@david-bennett
Two questions regarding strumming with a watch spring:
a. Have any of you ever tried this?
b. Do any of you know anything about watch springs? Will other sizes likely work?
I've ordered some vintage pocket watch springs to try but have not attemped this yet.
Any way what got me started on this was reading about dulcimore player General Custer Nicholas (1895-1979), From page 11 of the June 19, 1971 issue of The Daily Reporter from Dover, Ohio, "General Custer (that's his real name) Nicholas learned to play the banjo when he was 12 and living in the mountains of West Virginia... he fell heir to his first dulcimore when his left-handed brother could not learn to play it and gave it to him...
"The oldest dulcimore owned by the Nicholas's came from General's wife's family. A relative had died and left a dulcimore already cut out but unassembled. Her grandfather, Isaac brake (sic), of near Elkhurst, W. Va., glued the instrument together and learned to play it. "It's way, way over 100 years old," according to Mrs. (Hollie) Nicholas.  Nicholas makes no secret of the fact that he attended school only through the third grade, but his natural talent and personality have filled in for the lack of formal education. He made his first two dulcimores... completed both of them in a week. He has made 11 in all, using walnut, maple and cherry for the body and necks, and poplar for the sides. Everything about the instrument is handmade except the strings. His sons, Raymond, 40, of Carrollton, and Arthur Lee, 38, …instruments and play along with their father, all are extremely proficient. According to Arthur Lee, it is a hobby in which the entire family participates.
"General said the very best picks are made from the No. 18 size spring from a pocket watch, but since those are hard to come by these days, the Nicholas's make their own picks from plastic jugs..."