Great resource - Stephen Seifert Join the Jam videos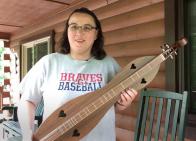 05/21/14 08:55:23AM
@mandy
First let me say I do not know Stephen and have never met him. I am not affiliated with him in any way, I'm just a very satisfied customer and only wish I would have had this when I first began playing dulcimer.
Stephen Seifert's Join The Jam Dulcimer play along series is amazing!! Cannot say enough good about it really.
My husband got me Volume 1 when it first came out. It is the best $25 you could ever spend if you are a beginner. Even if you are farther along than a beginner it is extremely helpful.
Here's what you get
Tabs - 3 different versions for each song.
Slow, Medium, Fast play alongs for each song. And these are just amazing let me tell you. Stephen even plays backup for you so you can take the lead and get to hear and see what that is. Plus you will find TONS of variations in the vids that are not in the tab where he adds in embellishments, and just spices it all up. You can see what he's doing, pause it to replay, and learn everything he's doing. There are tons of little licks he plays that would work well in other songs also.
If you are looking for a great way to get started or improve your playing tremendously, this is a great resource for you. You just download all the vids and you have them forever. You can print off the tabs, they are all very easy to read. There is lots of good written instruction here aslo. I'll include the link below. There's also a Volume 2 - I don't have this one but I'm sure it's of the same great quality.
I use some of them as play along's now and it is so fun! You can always play other instruments with them as well.
Bravo Stephen, wonderful teaching aid. Can't go wrong if you get this or get it as a gift for someone. If anyone wants to gift me Volume 2 I would appreciate it very much, LOL just kidding.