Student Dulcimers - Lots of them!!!!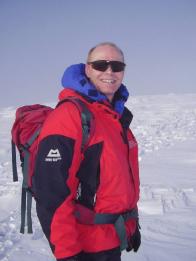 08/31/17 05:36:34PM
@robin-clark
I was asked to run the mountain dulcimer workshops at Shrewsbury Folk Festival again this year.  I expected we'd have about 30 novice players turn up to each of 3 workshops, as that was about the max number for the room allocated.  The only problem was that I could pull together about 10 student dulcimers, which left me 20 dulcimers short

  It was not going to be economical to buy in instruments from the USA, so the only option left was to build them.
I mentioned the project to Dan Collister, a local craftsman, and he was up for having a go.  So we sat down with another local craftsman and the 3 of us came up with a design that would be easy to build but would have all the features needed for a good quality student instrument.  I provided the expertise from a player's perspective and they provided the expertise from a woodworker's perspective.  I've always been interested in dulcimer design and own and play many vintage instruments as well as contemporary ones.  And I have followed with interest the work of Richard Troughear and his technical assessments of dulcimer design criteria.
So the design criteria we chose included the following:
Delta shape - no side bending and reminiscent of the old John Pearse instruments.
Shallow - looks balanced, easy to lap play, easy to stack, keeps the tone bright.
Birch ply top and back - cheap and stable
American cherry sides, end blocks and fretboard/headstock - hard and stable.  The sides would be just thick enough to glue without perfing.
Headstock and fretboard one piece - easy machining.
Fretboard routed out underneath - to improve resonance.
26" VSL - comfortable to play and will hold good intonation.
Zero fret - higher than other frets to ease drone playing in slacker tunings.
Equal temperament - for flexibility
3 x shallow wooden feet - for lap or table playing (increased volume and good for some teaching situations)
Nut and bridge at ends of fretboard - to give more bass and treble response.
Round sound holes - easy to cut and give art deco look in keeping with delta shape.
Headstock drilled to take either left or right side tuners - so a pack of 6 guitar tuners could make two instruments without altering the drilling jig.
We made a prototype and then, once we'd found that the design worked, Dan spent a couple of days making jigs.  We sourced the ply, cherry planks and hardware and bought some specialist fretting tools.  Then the building started in earnest.  It was a pretty efficient process due to the machine tools Dan had in his workshop.  I did all the fretting, hardware installation, bridge/nut, Osmo oiling and set-up at home as Dan delivered batches of assembled bodies to me.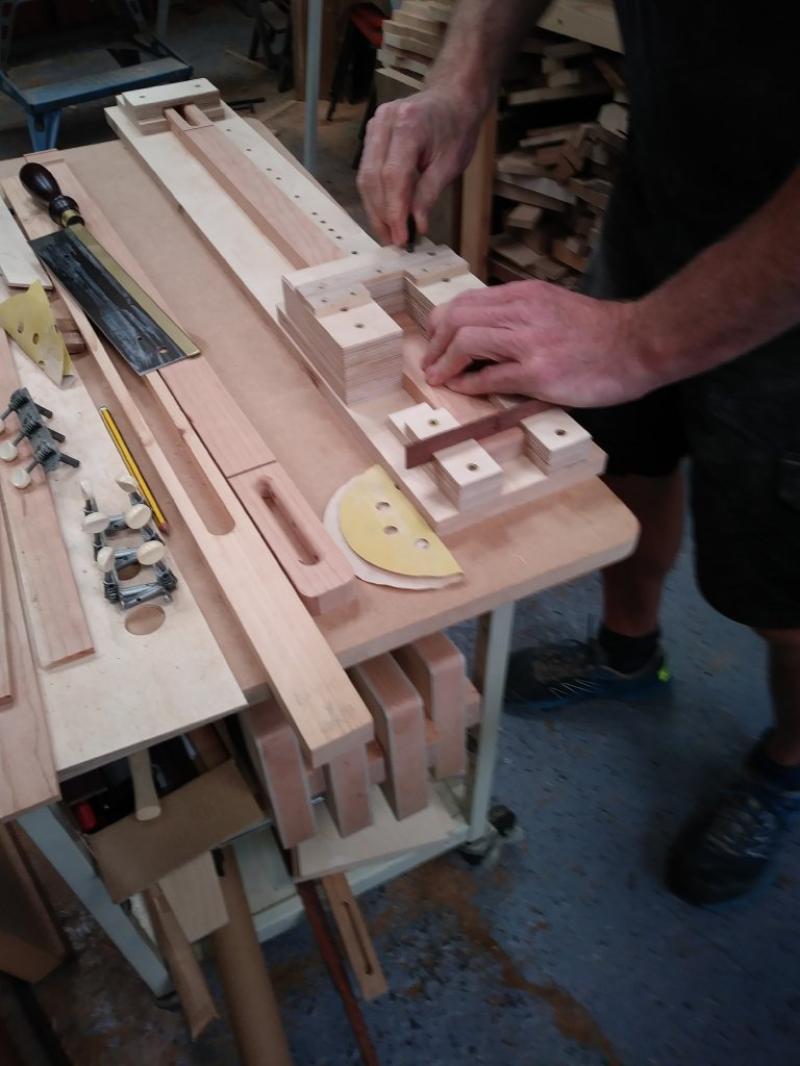 This is the fretsaw jig.  The steel rod locates into holes in the base plate and lines up the saw for each cut.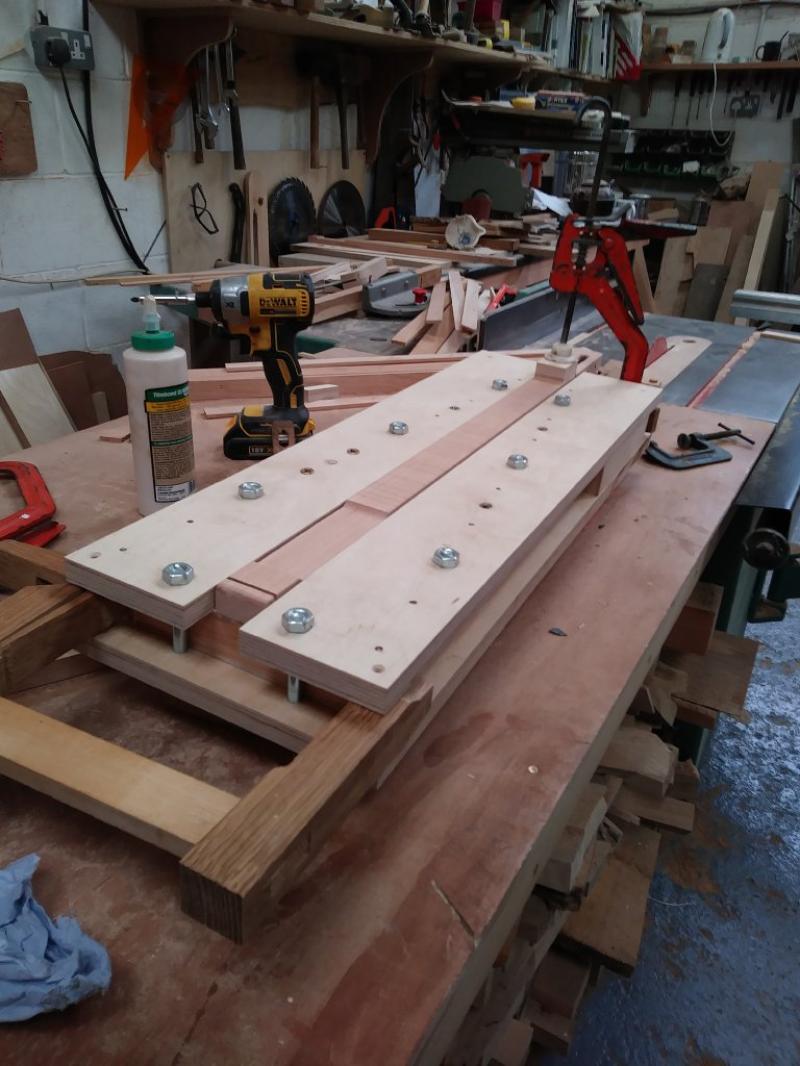 The body assembly jig.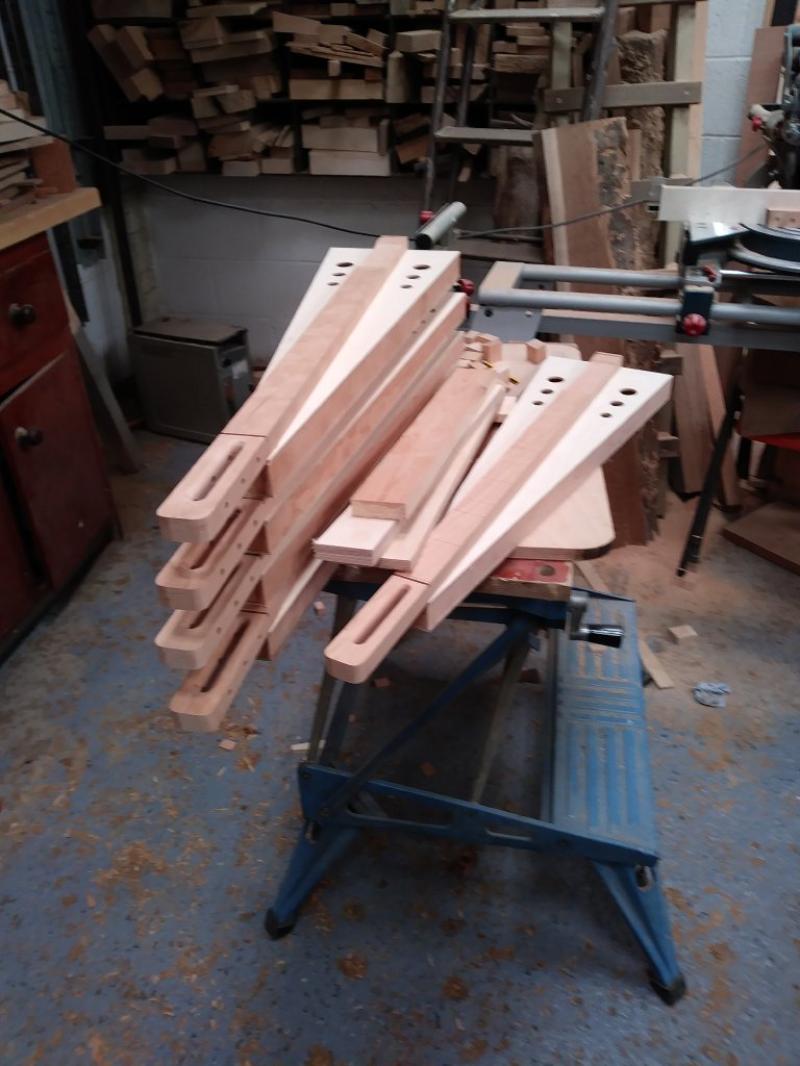 Awaiting edge finishing.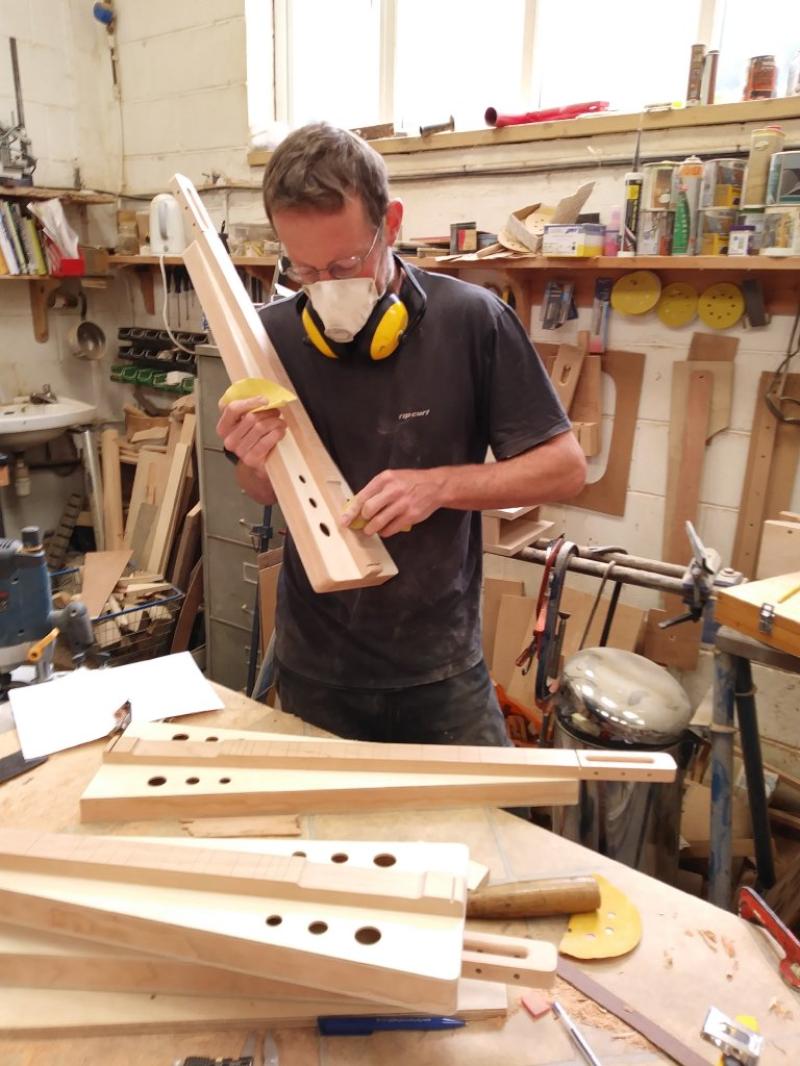 Final sanding.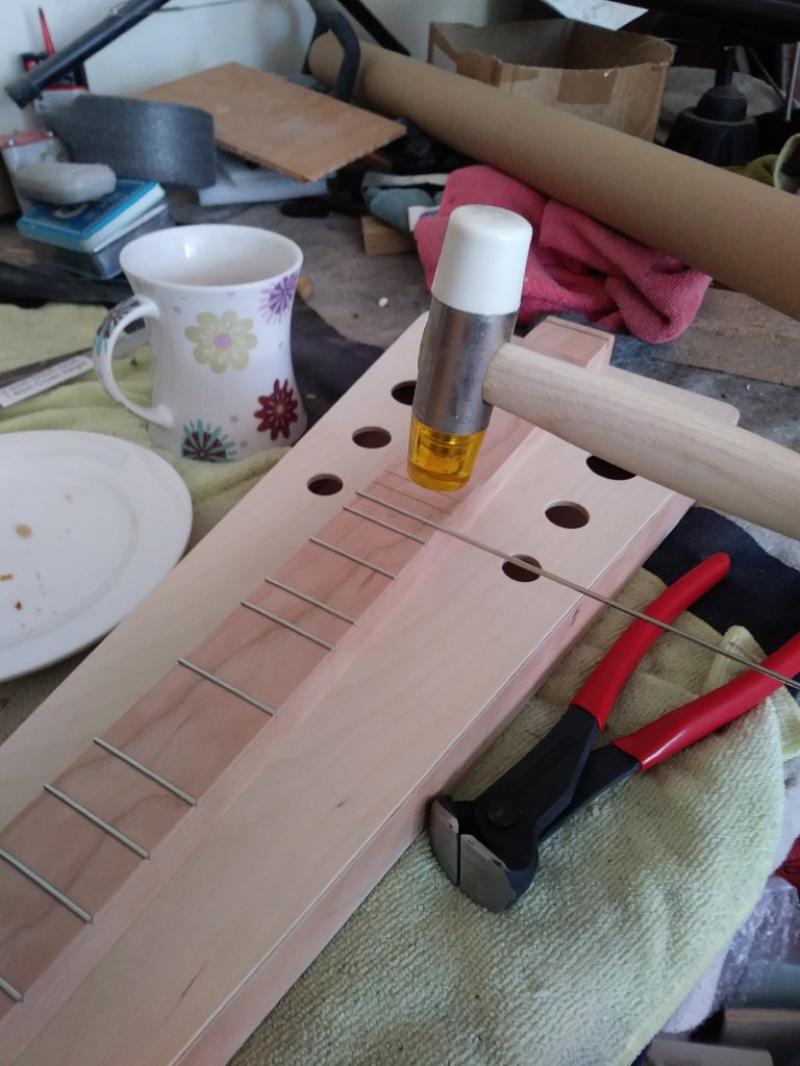 Fret installation.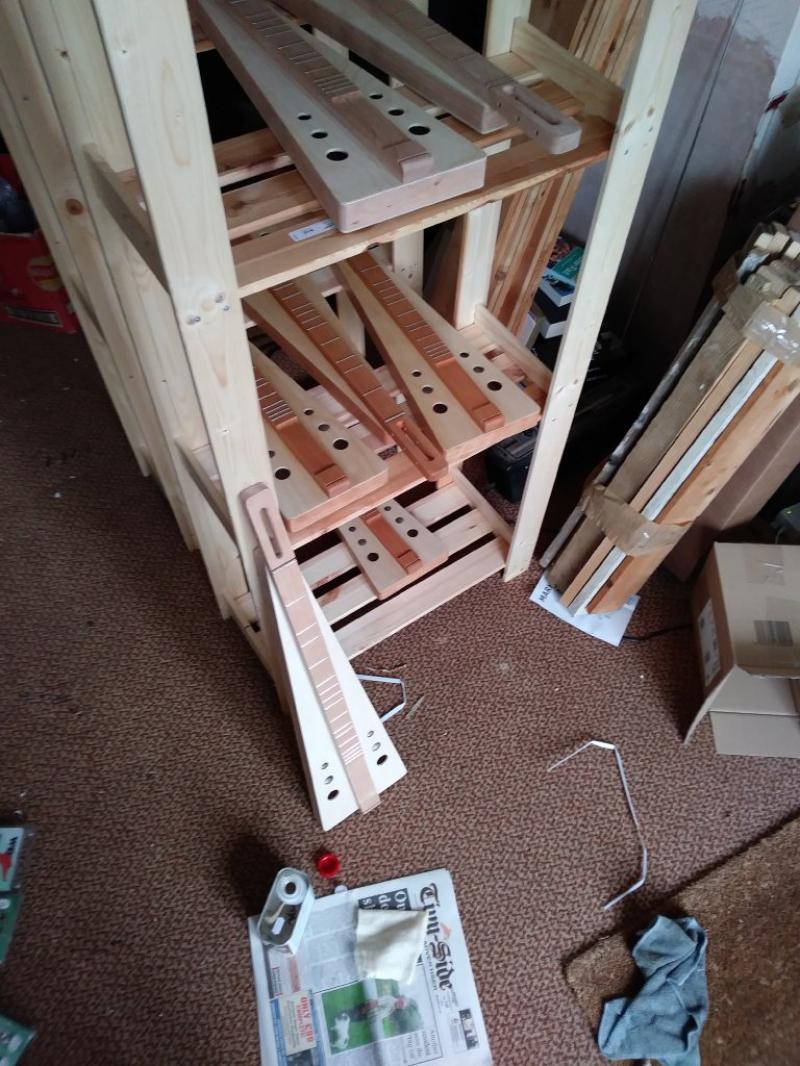 Osmo top oil coats being applied.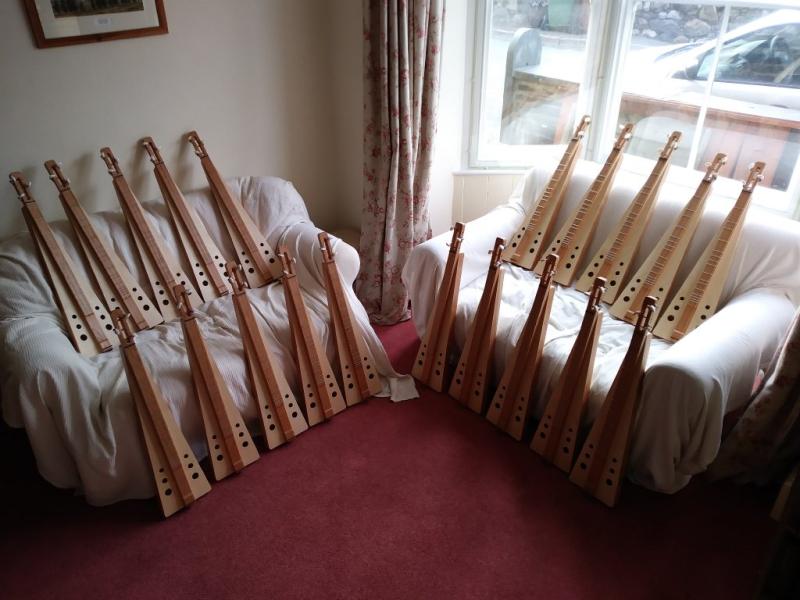 The first batch of 20 completed in time to go to Shrewsbury Folk Festival last weekend.  The workshops were great fun and the participants did really well.  We played a bunch of tunes and songs and for the last workshop I organised a bluegrass band to come along and play with our 30 or so strong beginners group. We arranged, played and sang Soldier's Joy, Old Joe Clark, Gospel Ship and Angel Band - not bad going for folks who hadn't picked up a dulcimer before!!!!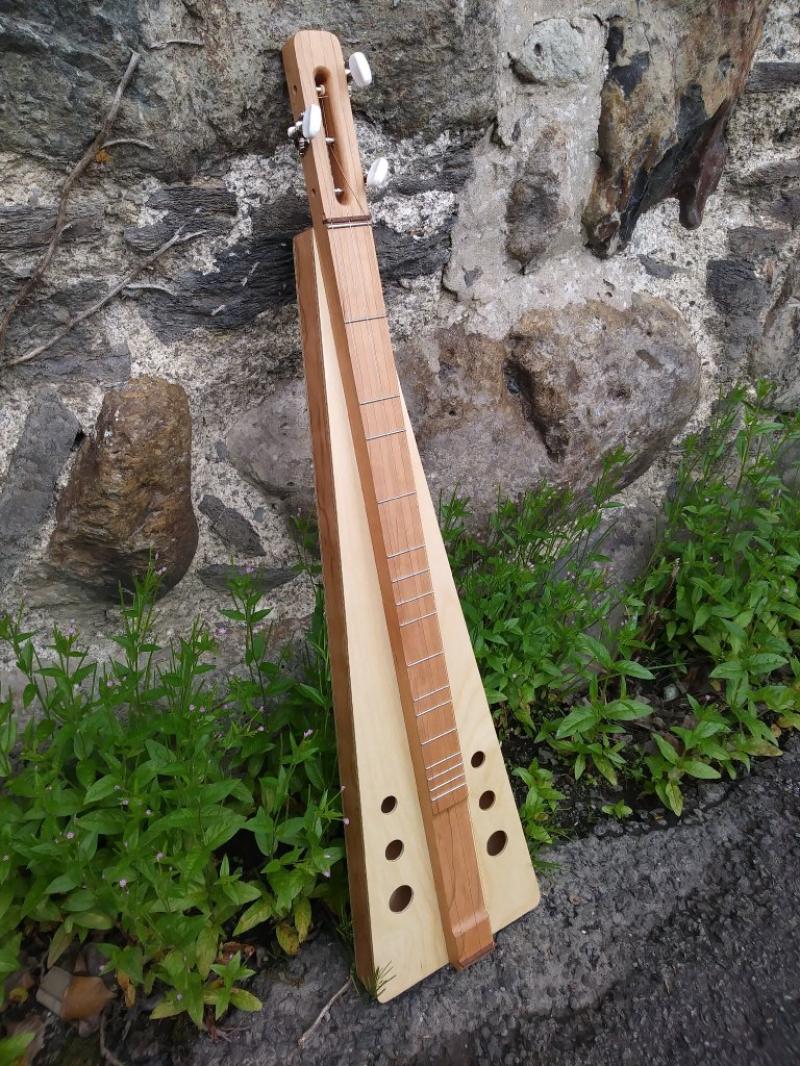 We have decided to call the instrument 'Y Deryn Bach' which means 'The Little Bird' in the Welsh language.
Here's a sound clip of the instrument.
jrSoundCloud_embed: item_id parameter required