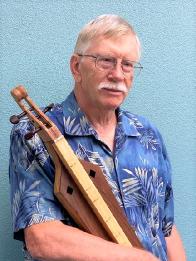 03/01/16 03:30:13PM
@ken-hulme
Awhile back I got the urge to build a dulcimer -- first time in years.  I wanted something different, and settled on this Coffin shape similar to some of the Ozark or Indian Walking Sticks I've seen.
Dan Cox made the JI fretboard for me -- 26+" VSL, in a way I've wanted to see done for years.  Notice that the arches match the spacing of the staple frets -- wide, wide, narrow, wide, wide narrow, etc., with the 'feet' of the arches centered on the frets for maximum energy transfer.  Where the spaces get too small, he's hollowed the fretboard all the way to the back, to reduce weight.  Excellent job, my friend.
Specs: 
Length = 32", Width = 5", Depth of side = 1-1/2", Height of Fretboard = 1", Mass = 20 oz., VSL = 26-1/8, Tuning = Ddd,
Woods:  Head and Tail = 150 year old Southern Yellow Pine, Top & Back = Wormy Chestnut, Sides = Red Cedar, Fretboard = Walnut, Nut and Bridge = Snakewood, finished with 6 coats of Tung Oil.