Starting the New Year Right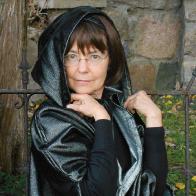 12/31/12 02:31:49PM
@lois-sprengnether-keel
I'd put this on "My Page", but don't see how to start something there. This is both a personal announcement and a bit of announcement/temptation to any others with DAD (Dulcimer Acquisition Disease).
I've been drooling all over my keyboard over Elderly Instruments expected delivery of new Folkroots dulcimers with gigbag for $340. I live within an hour and a half of this temptation, so I kept checking back to see when they might arrive. Finally couldn't stand the suspense any more and called to see when they were expected and if Elderly might give me a notification.
I can get an email or phone notice of arrival if I send them a refundable $100 deposit. I could decide to apply it to a McSpadden if I try both and choose it instead. The McSpadden's are $350 while the Folkroots are $340 and both include a gigbag.
For those interested, the section opens with a pair of used MDs (then keep scrolling past HDs and printed materials) then a few other MDs appear. I've heard nothing but good here on both Folkroots and McSpadden, so the Black Mountain doesn't get my interest up even if it is less expensive. Similarly the used dulcimers don't interest me as I'd be insane waiting for their return from my local luthier! (I'm also not sure he handles/understands dulcimers.)
Elderly does a super conscientious job describing used instruments. (My husband has Banjo Envy, has tested Elderly, will probably again, so I hesitate when he says he wants to come along because they have a better selection of banjo straps...YEAHRIGHTSURE). For new instruments they give the list price and you can trust it's less. A recent list here was what sent me to this bit of temptation of my own. Yes, it made more sense for me to get a new MD through Elderly.
My Scottish ancestors know I try for the best deal I can. Don't know what they'd think about my spending any money "unnecessarily", but I can tell the time has come when I think it's necessary.
"Oh, Lord, lead me not into temptation...for I can find it myself!"