Hi everyone!  It's been a crazy year. Between the holiday season coming up shortly, and the many ways folks are moving to online or virtual events and promotions, I thought it would be a perfect time to remind you of the several ways you can promote your offerings, events, and items for sale on FOTMD!... see the attached image numbering ways 1-3 that I describe below.
-----------------------------------
Please look over the following four ways to promote sales and events, then decide which way fits what you want to offer our members. In some cases you may want to utilize two ways:
1. The most highly visible and most versatile way to promote what you offer is through buying a main page Banner Ad in our sponsor slideshow carousel! The possibilities are endless since the only requirement is that whatever you are offering is music-related. Our rates are as low as $10/month so this is very affordable, see the rates and details HERE . Your ad purchase helps us pay our costs to keep FOTMD up and running. Your profile page will get a Sponsor designation on it. In your banner, you can sell instruments, CDs, books and courses, workshops, promote your band or upcoming virtual events or concerts, advertise lessons and your websites. Your banner ad will be hotlinked to take folks to your chosen website for more information. Promote a new zoom gathering or online jam you've started, or maybe you just want to sell off a few spare dulcimers to thin your herd- why not buy a two month banner ad!
2. List your Event in our site's Festivals and Gatherings Calendar . See your event listed in the Events calendar on our main page as well. It's free! the only requirement is that your event must have more than one teacher or presenter/performer, OR that your event is free to all at no charge. The Events calendar allows you to create a FOTMD page with a comment wall and have members list themselves as 'attending'... it also shows on our main page in the Coming Events widget ("2" in below image). To add an event to our Festivals calendar listings, go to your own profile page and click your "Events" tab there, then click the Plus+ button to add your event. It will then show up in the Fotmd Events listings. Do you have an upcoming zoom/virtual event coming up and you want to boost attendance?- well then list it in our FOTMD Events calendar for free, AND purchase a low priced main page Banner Ad where it will be seen by all!
3. Are you offering your own workshop, or giving a virtual or live concert? For single instructor or single performer events, use our Single Instructor Events Forum , HERE . Our Single Instructor Events Forum is the place to list your Club meetings and regular jam events as well. It too is free! Consider additionally purchasing a (1) Banner Ad in our main page slideshow ahead of time if you really want to super boost visibility of your personal workshops or concert! (Remember you can sell or promote anything in our Banner Ad slideshow as long as it's music-related.)
4. Do you have an item to sell that's music related, but is not an event? Are you selling a musical instrument or two you no longer need, or a stack of tab books or a CD? Are you looking for a used dulcimer? Then use our ForSale/Wanted Forum, HERE . Our For Sale forum is also free to use- though we do ask that you donate a minimum $5 to FOTMD "if" you make a sale from your ad that's over $100. There are some limitations in how you can list items there, so please read our site FAQ/Guidelines before placing a free ad there. It's not intended for commercial sellers or services. If you have multiple or valuable items for sale, consider purchasing a main page Banner Ad at our very low rates instead.
Thanks!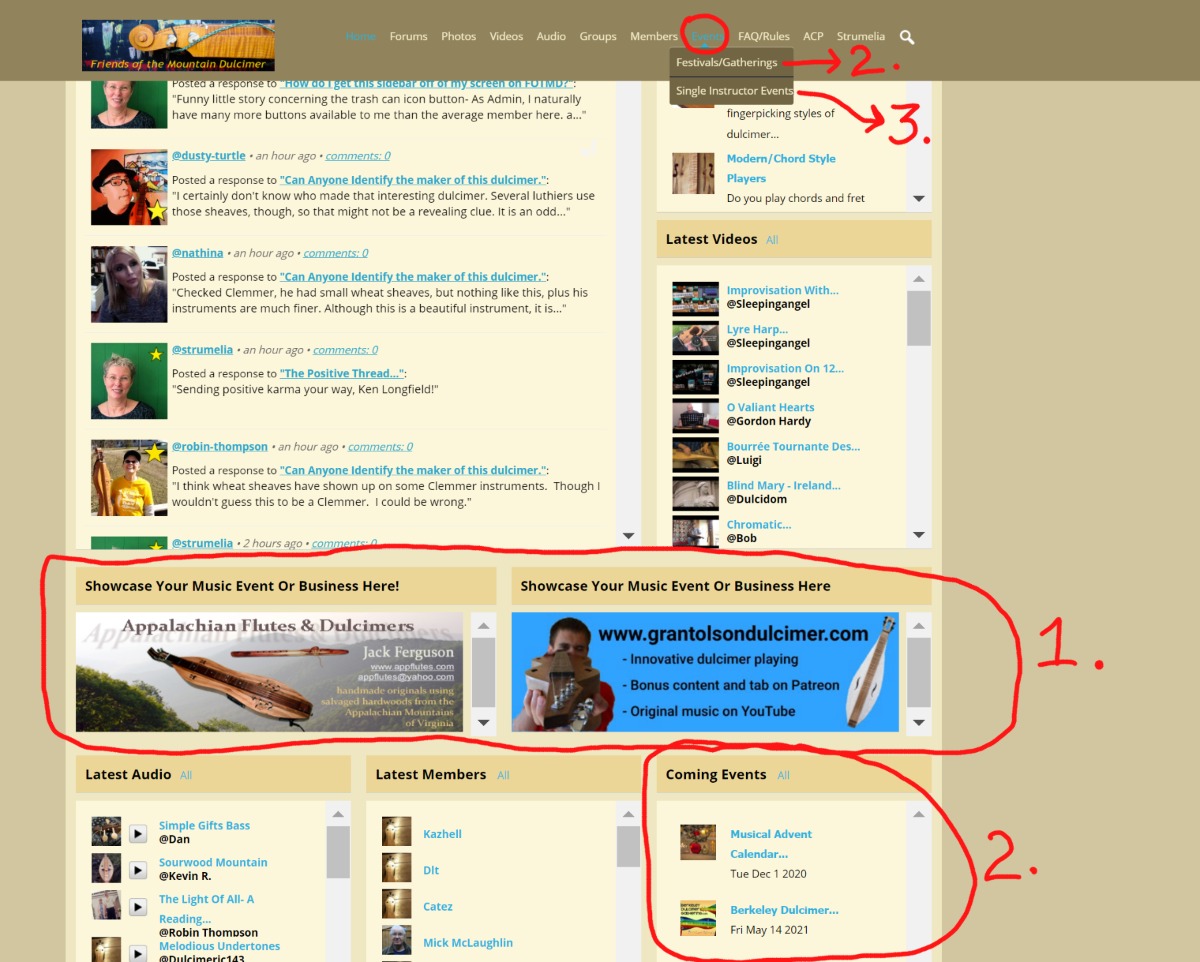 --
Site Owner

Those irritated by grain of sand best avoid beach.
-Strumelia proverb c.1990