Bill Davenport
@bill-davenport
3 years ago
74 posts
Wow! Thanks Robin. I have to try this. But I need a little guidance on how to tune it. I bugged around with a guitar early in my life. Pardon my ignorance. Is the middle D same as outer D? Same octave note? 

Joe Hamilton
@joe-hamilton
3 years ago
9 posts
I just realized that I wrote out taro patch tuning bass ackwards. It should be DGDGBD.

Joe Hamilton
@joe-hamilton
3 years ago
9 posts
Nice! I've recently started learning slack key or taro patch guitar and love the laidback, relaxed feel and have pondered how it would pair up with dulcimer or strum stick.                                                 (GDGDBD)

Robin Thompson
@robin-thompson
3 years ago
824 posts
You & Lundy Island make a great team, Robin!  :) 
Your play sounds really good! 
Other than standard guitar tuning, Mark also tunes to "Drop D" sometimes to give something of a droning quality to the guitar part.  Don't know whether you've ever tried it or not but you might like experimenting if you've not yet played in this tuning. 
--
Robin T
one of the Moderators here :)
Keep a song in your heart!
updated by @robin-thompson: 10/05/16 09:07:16AM

Mike Thurman
@mike-thurman
3 years ago
2 posts
Fantastic version of a great song.  You really play it well.
Hi Ken,
What I've found is that it becomes quite a symbiotic relationship between the instruments.  The guitar can really work in support of the melody and the dulcimer gives the guitar direction.  For Elzic's Farewell I was using primarily one and two fingered chords on the guitar and one 3 fingered inversion.  There are some basic chord charts for DADGAD to get you going, like this one here but once you get the concept of playing guitar against drones (like a dulcimer!) you can make up your own chords (or rather partial chords) to suit the piece.  I've panned the instruments left and right in the above recording so with headphones on you should be able to pick out what the guitar is doing. Now I'm no great guitarist, I hardly ever play for pleasure and find standard guitar tuning a struggle but I managed to sit down at a friends house the other night and pick out a lot of tunes by ear from DADGAD (Will the circle, You are my sunshine, Shady Grove, OJC, Wayfaring Stranger, Wagon Wheel, I'll Fly Away etc) just as we were sitting and chatting.
I think it is definitely worth a try if your guitarist friend is prepared to experiment a little and step out of their comfort zone!

Ken Hulme
@ken-hulme
3 years ago
1,483 posts
Sounds really good Robin.  I've started trying to convince my guitarist friend to re-tune to DADGAD and see what we can do together...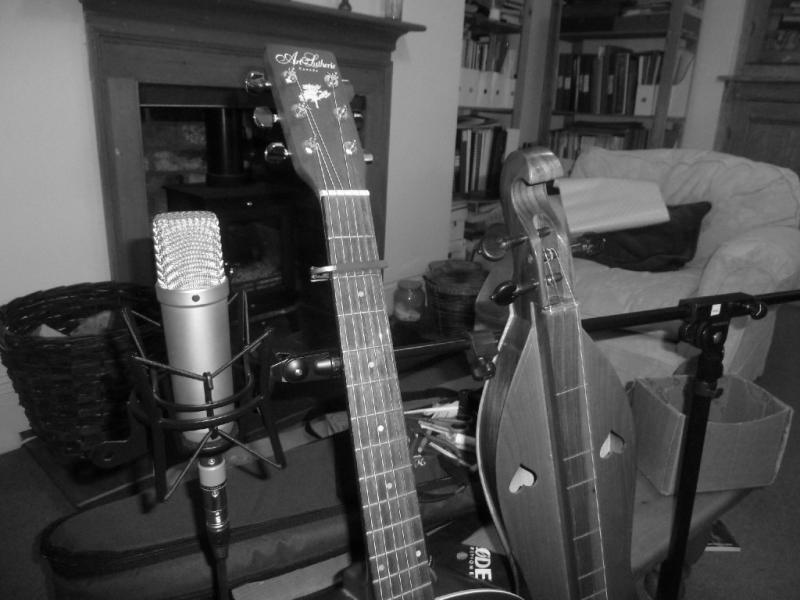 I've had the chance to sit down in my front lounge this evening and record an example of noter drone dulcimer with DADGAD guitar backing.  One of the great things about DADGAD is that it is essentially neither major or minor - it is the noter drone dulcimer that actually tells your ears the guitar is playing minor or major chords (which it is not!).  There's quite a bit of myth busting going on here - that's a 3 string dulcimer in dorian tuning with wooden pegs and an old Leonard Glen by ear intonated fret pattern.  And it is being played noter drone style with guitar.  When I first started playing dulcimer the common wisdom was that such a combination was impossible to play in tune.  Well what a load of ??**@$%%  What I can say is that neither instrument has been anywhere near an electronic tuner - the 9 strings were blended by ear.
updated by @robin-clark: 10/03/16 06:08:53PM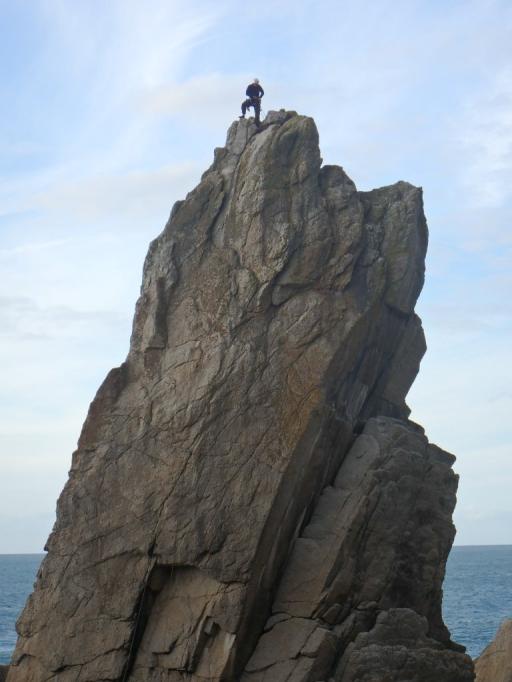 I was on a rock climbing trip to Lundy Island a couple of weeks ago and met a great guitarist.  I had a dulcimer with me so we worked up a few tunes together.  He played in DADGAD.  Just before the trip I'd started to experiment with the DADGAD as backing for noter drone dulcimer.  However on Lundy I had a golden opportunity to play live with a great backing guitarist and really hear the potential of the combination. 
It was an absolute delight to work the dulcimer against such a complimentary backing and we fired off fiddle tunes during the evenings we spent staying in the Old Lighthouse on the island.  On the last night we ventured to the Marisco Tavern and played a session in the bar.  I found a seagull leg bone on the cliffs and using that as a strummer certainly gave my dulcimer a very solid 'voice' in the pub!!!
Since returning home I've been working on my own guitar playing in DADGAD and have been surprised just how intuitive it is to both play melody and back-up for old time fiddle tunes.  Now, there could be an 'issue' with old time purists but seeing as how the guitar was a late comer to old time and the fact I've heard some early recordings backed by open tuned guitar DADGAD sits well with me - and it certainly sits well with noter drone dulcimer!
I'll try and record something this week and post it here.  But I did wonder if anyone here plays DADGAD and in what context?
Robin