Lexie R Oakley
@lexie-r-oakley
8 years ago
230 posts
I really like the sound of your "Dulci Friend" and it is very cool you can make the fret board to suit you. 

Here is a tune called West Fork Gals played on this dulcimer. If this dulcimer had legs it would follow me around where ever I go. 

...

Kevin Messenger
@kevin-messenger
8 years ago
86 posts
Robert, That is a great looking dulcimer, and I am sure it sounds great too. I haven't fretted a dulcimer in anything but JI since I did the first. They just seem to be what I want to here.

Patty from Virginia
@patty-from-virginia
8 years ago
230 posts
A facelift or should I say fretboard lift for an old friend? It's gorgeous. I agree with Cynthia. That rope treatment on the edges is pretty.

Robin Thompson
@robin-thompson
8 years ago
1,401 posts
There's just something about an old friend that's extra nice.  Lovely work! 

Cynthia Wigington
@cynthia-wigington
8 years ago
74 posts
Robert you're driving me wild with your dulcimers - I've always been a sucker for rope bindings, think they are so elegant, with with JI too? Eh...if that one is ever missing, I may have borrowed it for a 3 am dulcimer fix... congrats.
Thanks Lexie, I hope your coming along well in your playing too... Robert.

Lexie R Oakley
@lexie-r-oakley
8 years ago
230 posts
Excellant Robert, it looks like a beautiful friend to have and it is good you could fit it to your style.
Back in 2011 I built a teardrop that became my favorite dulcimer. I would go to it first to learn a new song, or when I needed a dulcimer fix at 3am, or whenever I played in public. Its a dulcimer I don't have to worry about getting dented or scratched. Since I started building for sale dulcimers with Just intonation JI. I fell in love with that special sound and it renewed my interest  in the very rich but  much ignored and maligned 155 tuning. 
So last week I ripped of the old tempered scale fretboard and replaced it with a JI scale. I like the old timey look of partial staple frets but don't care much for staples. So I used conventional frets. I also like to jump over to the bass and play the last four notes of the scale so I added full frets at the top. 
I have been playing this dulcimer so much in the last couple of days after completion that Im behind on my farm work. I need a little discipline, but playing music is just more fun, especially on my new rebuilt friend. H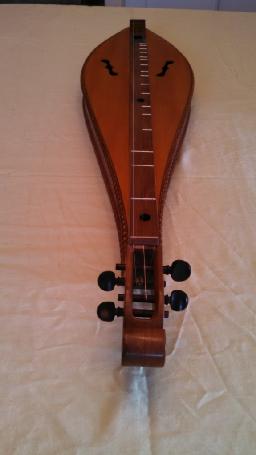 ere is a before and after pic... Robert.